Reality Capture: Making it easier to document your facility
Article

| 08.19.2020
By Mike Pfaff, Practice Area Leader, Reality Capture, Wightman
Ever wish you could just have everyone understand what you are talking about right away by a drawing? It is frustrating, trying to explain something important about your facility at a meeting and you just cannot seem to make it clear. Using poor quality images and old plans to relay information can be difficult, especially if the plans are riddled with inaccuracies. The assumption that existing plans drafted prior to the construction of a facility and used for the purpose of future renovations has proven very costly to the extent that it is assumed these plans accurately reflect reality.
Although in existence for two decades, the technology to address these frustrations has only recently become mainstream both in the Architecture, Engineering, and Construction (AEC) design realm as well as in the sphere of the contractors hired to turn design plans into reality. This technology is known as Reality Capture.
While accurately reflecting the existing 3D environment is vital to a project's success, Reality Capture aids in the development of Building Information Modeling (BIM) that is used by design professionals and general contractors to address two critical factors that matter most to the owner of a project – schedule (known as 4D) and cost (known as 5D). BIM and Reality Capture technology is used to aid general contractors in determining the critical path and proper sequencing of subcontractors to avoid project delays. Avoiding delays and change orders, in turn, has the benefit of reducing the cost at which a project is delivered.
Those in the design and construction industry that have embraced this technology have been able to reduce the percent contingencies that were anticipated prior to the adoption of Reality Capture technology. Dependent on the specific needs of the design team or facility operator, a number of Reality Capture devices are available.
Spherical cameras (360-degree cameras) and drones can be used to create virtual tours and create great imagery but are generally not used for precise measurement and are also dependent on proper lighting conditions. In some instances, this may be all that is needed to relay information on your facility.
When pinpoint accuracy counts, the tool of the trade has become high definition laser scanners – especially in highly complex environments or in facilities that have multiple levels. The data collected from laser scanners is registered together to assemble an accurate 3D virtual copy of the facility often referred to as point clouds.
How does this help you and what is its value? This data has a variety of applications. Simple photo virtual tours can be produced to share online as collaboration tools or used on web meetings. This is also the case with point cloud models (virtual copies). Point cloud models can also be utilized to create accurate CAD models of the facility with all the intricacies of its mechanical and structural aspects. Both CAD models and point clouds are readily used in architecture, engineering and fabrication when designing modifications or sharing information about existing facility infrastructure. Simple platforms like 3D PDFs developed from point cloud modeling are being used and shared within organizations as easy to use and access digital assets. Some other examples of how the data is used includes:
Reality Capture data can be shared or webhosted for collaboration.
Data can be integrated into GIS systems.
3D PDF and other digital documents can be widely used within organizations without special software.
Data can be utilized internally for planning, maintenance scheduling, project bidding and accessible to the entire organization.
BIM (Building Information Model) is often based on Reality Capture data on renovations existing structures and verification processes in new construction.
Here are a couple project examples of Wightman's Reality Capture technology being deployed in the realm of educational facilities.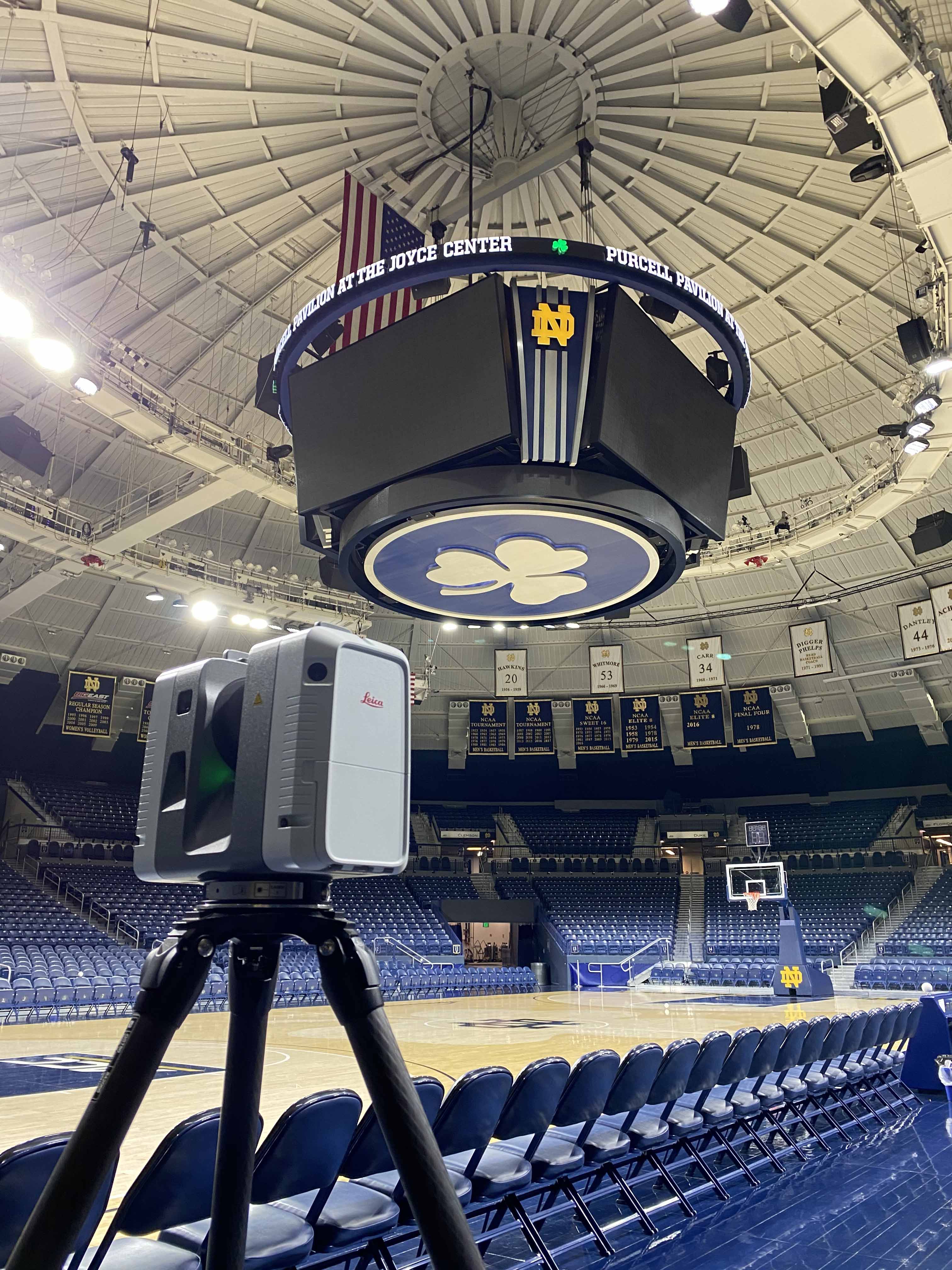 The University of Notre Dame recently retained Wightman to conduct scanning activities on their double-domed Joyce Center building. It is home to men's and women's basketball, volleyball, fencing and is often used for one-time events where reconfiguration of the facility is needed to assist with staging and set-up prior to the event. The Facilities Department at Notre Dame is now able to provide a spatially correct digital copy of the Joyce Center to assist users of the facility with planning and staging from a remote location. With a national demand for this high-profile Notre Dame venue, the ability to accommodate the end user in this fashion has proven to be a key factor in helping event planners to assess the staging needs prior to mobilizing to the site. The digital model of the Joyce Center is also being used by event planners to assist with crowd control, security operations, and to address the spatial concerns that relate to COVID-19. Laser scanning was also completed for Notre Dame's Snite Art Museum to provide a digital copy of the roof and facade features that had been recently restored.To address a potential concern by the facilities department staff, Wightman completed a spatial façade analysis for the exterior of the museum to determine the verticality as well as the extent of bowing that existed in this important campus landmark building.
Recently, scans were conducted on the Portage District Library in Michigan to be used for modifications on the facility. Laser scanning information was collected on the exterior, roof, floor levels and plenum (false ceilings) along with the mechanical rooms. Architects, designers, contractors, and facility managers will use this information to assist in design efforts and collaboration throughout the project.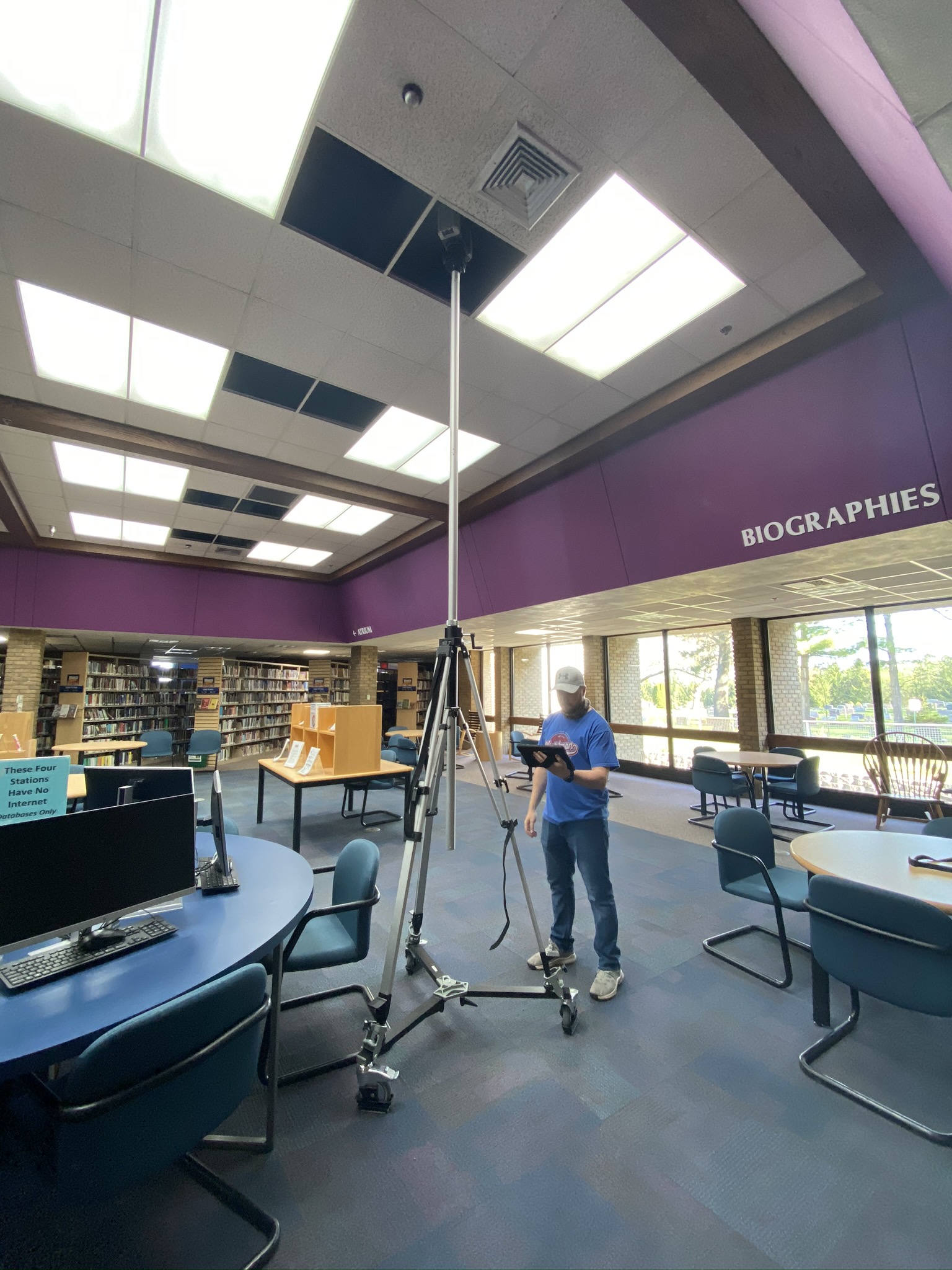 Wightman is blessed to have an experienced and talented Reality Capture staff. Throughout their careers Wightman's team staff has applied this technology across the country at institutions such as:
Properly applied, Reality Capture technology can save time, reduce site visits and misinformation, mitigate construction change orders, eliminate safety risks when accessing dangerous areas to collect information, act as a pre-construction conditions document and be a construction tool for design and collaboration. In an age where access restrictions, remote collaboration and low site impact has become our reality, this technology has now become mainstream and is showing its value in many ways.
Let the Wightman team know how they can help you with your next project.
Services