Transforming an Outdated Science Wing
Article

| 08.31.2021
Lorenza Pastrick, high school principal at Bishop Noll Institute (BNI) in Hammond, Indiana, has a vision - to transform the outdated science wing space at the school into an innovative, engaging environment supportive of 21st-century learners. When sharing options about potential upgrades to the area, including modernized technology and equipment, larger rooms that support a combination of lecture and lab formats, and hands-on, experiential learning that link students to real-life situations helping prepare them for adulthood, her excitement is palpable – and contagious. With a core focus on student experience, principal Pastrick wants the science wing to provide the best possible high school education in Northwest Indiana, enticing students, families, and educators to the state-of-the-art learning environment.
In 2019, BNI made a substantial investment in its students by committing to a project that converted an underutilized natatorium-turned-activity center into a dynamic, collaborative, experiential learning space. Each element of the 7,170 square foot project aligned with BNI's vision to provide outstanding and impactful STREAM (Science, Technology, Religion, Engineering, Art, and Mathematics) education for high school students and enrich their learning experience.
BNI hired Wightman to provide community visioning, community engagement, design, and construction services for the project. In October 2019, the award-winning STREAM lab opened to critical acclaim. Having witnessed the successful completion of the project and the stimulating effect the dynamic learning space provides students, BNI leadership decided to expand on the STREAM lab's success.
BNI consulted with Wightman again to explore additional educational opportunities and ideas by transforming the original science wing into a vibrant high school science commons to engage students with the Next Generation Science Standards curriculum. Wightman met with school administrators, teachers, and students to discuss and define the vision for converting the existing science wing, including deep conversation about wants, needs, and outcomes. BNI opted to transform the science wing space. The current BNI science wing construction dates to the 1950s and consists of a long, double-loaded corridor with science labs and lecture spaces off to each side. Since the original construction, the area has realized few significant facility updates, providing the first impression of dated space, static furniture and fixtures, inflexibility, and forced technology integration. Wightman's professional staff is experienced and understands how to use educational curricular requirements, such as Next Generation Science Standards, and translate those into architecture, a physical learning environment used to help teachers teach, and students learn the curriculum. Through a very structured and focused visioning approach to allow us to listen and collect input to design the project accurately and consistently with their values, the process provides multiple opportunities to hear from the stakeholder, including school administrators, students, staff, parents, and community members.
Initial stakeholder meetings provided us with great information about where they have been with what they currently have for facilities. Subsequent sessions focused on teaching and learning, including those items required to support the mission, focusing on the arrangement of space, furnishings that support the learning experience, and details concerning enhancing the student learning experience. During each session, teachers repeatedly expressed the desire to incorporate a student collaboration space to support their vision to provide students their own space to explore, work together and engage and challenge each other academically. As one enters the science commons, the collaboration space is a statement of the school's commitment to students and their education.
Following the initial meetings, Wightman developed abstract visioning documents for the visioning committee's review and input and refinement. Subsequent visioning sessions via a hybrid approach due to the COVID-19 pandemic, including remote or in-person participation options, included staff members, students, and invested stakeholders.
Wightman provided BNI with final deliverables that included a phased cost estimate, interior renderings and space plans, final report, preliminary timeline, and recommendations. The deliverables allow Pastrick and the school to share the collective vision and cost with students, parents, and stakeholders, as both elements will be key during the institute's fundraising effort. With renderings in hand that exceed what she had in mind, Pastrick's excitement grows as the project moves forward.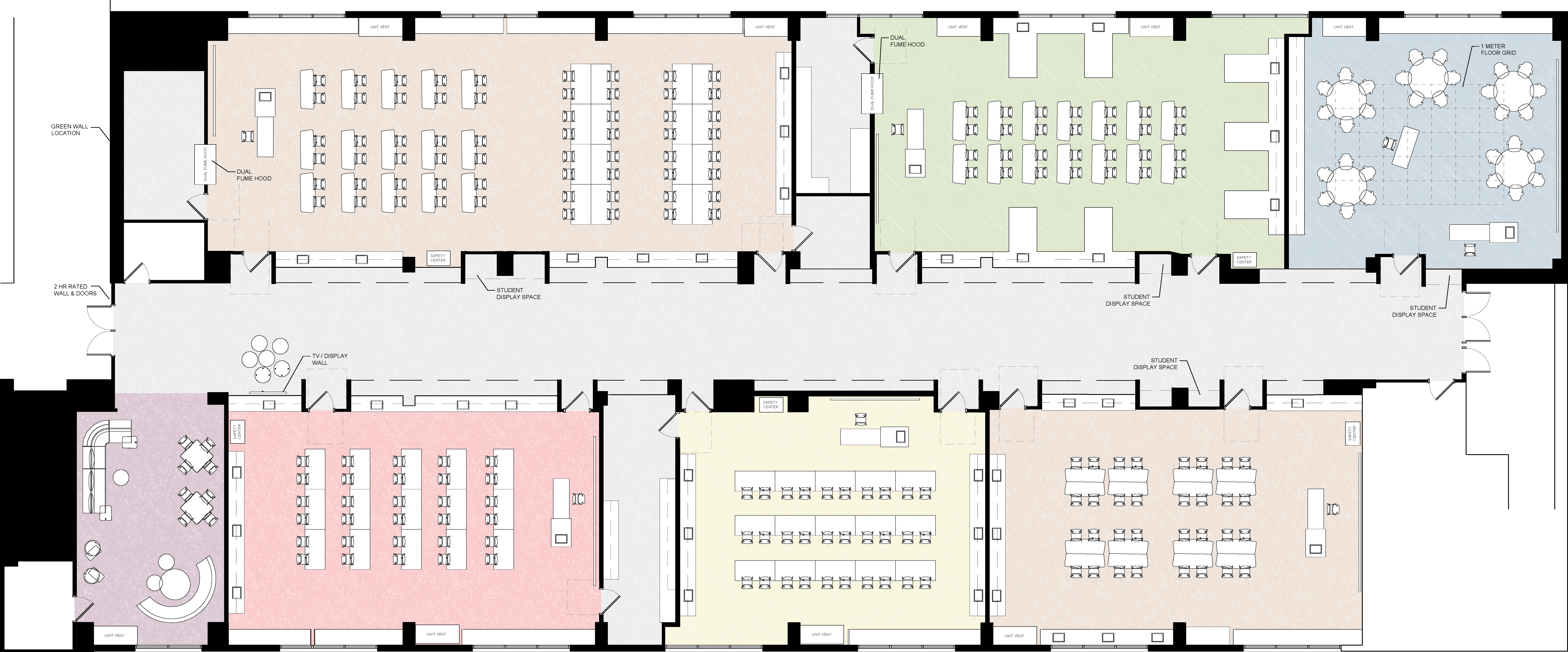 Services
Expertise